2019 Honda Accord Lease

Welcome to Marty Sussman Honda, your go-to for a 2019 Honda Accord Lease deal in Abington, Willow Grove, and Glenside! On this page, you'll learn everything you need to know about leasing this essential commuter car.
Scroll down to see what makes the 2019 Honda Accord so great. Then, find out why leasing this midsize sedan may be the right choice for you!
Shop the new Honda Accord here!
2019 Honda Accord: Efficient and Reliable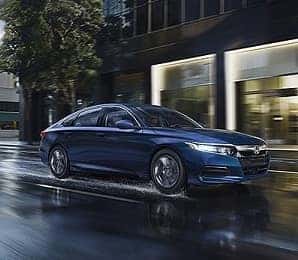 Whether you're commuting from the Philly suburbs or taking to the open road, the Honda Accord is a compelling choice. It comes standard with Honda Sensing® technologies, which can help prevent accidents—even when the car in front of you suddenly stops.
Meanwhile, the Accord can be customized to fit your driving preferences. Choose from a 1.5T, 2.0T, or Hybrid engine. This midsize sedan is even available with manual, automatic, or Continuously Variable Transmission. You won't find many vehicles that offer all three transmission types.
The trunk provides 16.7 cubic feet of cargo space meaning there's ample room for shopping bags, luggage, or other gear. The quiet cabin allows you to shut out the sounds of the outside world, whether you're enjoying a peaceful break after a chaotic workday or cranking up the tunes on your ride home.
Read the full 2019 Honda Accord review here!
Why Lease the Honda Accord?
When you choose a fuel-efficient Accord or Accord Hybrid, you get to save on fuel costs. Choose to lease that model, and you'll also save on monthly payments. This is because you're only paying to drive the car for a few years instead of trying to cover the entire cost of the car.
What you do with that extra money is up to you. You can either pocket it, or you can use it to upgrade your Accord with more features. That includes features like:
Heated front and rear outboard seats
Ventilated front seats
Wireless charging station
Blind Spot Information System
Auto-dimming rearview mirror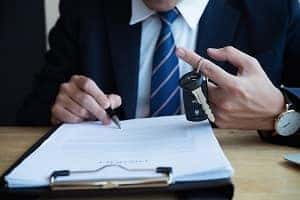 With all these cool features available in the 2019 Honda Accord, just imagine what will be available a few years from now. Leasing makes it easy to upgrade to a new model every few years, so you'll be able to take advantage of those future technologies.
If you decide you love the 2019 Accord, you can also decide to buy it once your lease is up. In other words, you can think of the lease as an extended test drive, where you really get to know the vehicle before buying it.
Lease the 2019 Honda Accord Today!
Marty Sussman Honda has plenty of Honda Accord models in stock near Abington, Willow Grove, and Glenside. Check out our inventory to find one that's right for you, whether it's the supremely efficient Hybrid or a high-performing Sport.
Before you visit our dealership, feel free to fill out our online finance form. This can save you time when you're ready to sign that lease agreement. Then, head to our showroom to find a 2019 Honda Accord lease deal that works for you. If you have any questions, don't hesitate to give us a call!
Contact us to schedule a test drive today!