Honda Accord Dashboard Light Guide

Do you drive a Honda Accord? If you call Abington, Willow Grove, or Glenside home, the Marty Sussman Honda team has drawn up the following Honda Accord dashboard light guide for you to check out.
Our intention is to provide you with the kind of information that can come in handy whenever unexpected events transpire while you're behind the wheel. Accordingly, each of the descriptions below consist of brief explanations detailing what each light looks like, each one's purpose, and actions you should take if they're activated.
You're more than welcome to give us a call, send us an email, or pay us a visit if you have any questions while you're reading along.
Charging System Indicator
The Charging System Indicator looks like a standard car battery and is there to alert you to the fact that your battery is not holding a charge.
When you notice that this light has come on, turn off all unnecessary electric systems in order to give yourself enough power to get to the nearest service center or a safe place to call for help.
Electric Power Steering System Indicator
When there's an issue with the power steering system, you'll see a symbol pop up that consists of a steering wheel next to an exclamation point. Be sure to seek immediate assistance.
Supplemental Restraint System Indicator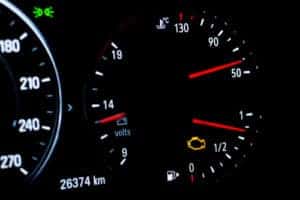 The Supplemental Restraint System Indicator is there to tell you that there's a problem with the supplemental restraint system, knee airbag system, side airbag system, side curtain airbag system, or seat belt tensioner. It uses the symbol of a person wearing a seat belt along with an inflated airbag.
Malfunction Indication Lamp
When you see a light that looks like an engine block, you'll be able to recognize it as the Malfunction Indication Lamp.
If it lights up and stays on, there's likely to be something wrong with the emissions control system. If the light is blinking, it means that one of the engine's cylinders is misfiring. Either way, you're going to want to take it to a certified technician as soon as possible.
Low Oil Pressure Indicator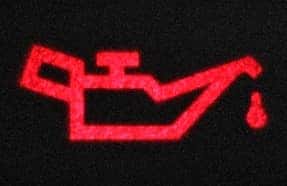 The Low Oil Pressure Indicator should also be addressed immediately. It looks like an oil can with some oil being poured out.
Brake System Indicator
The Brake System Indicator dashboard light is also easy to spot. It spells out the word "BRAKE" in all capital letters and kicks into action when there's an issue with the brake system or your brake fluid is running low.
As with the rest of the items on this list, see a certified technician when it's activated.
Remember to Monitor Your Honda Accord Dashboard Lights
We here at Marty Sussman Honda hope the preceding Honda Accord dashboard light guide has been useful to you.
If you've recently noticed that one or more of these lights was on during one of your regular Abington, Willow Grove, or Glenside commutes, our team in the service center will be able to take care of it for you.
Contact us today to schedule your appointment.