Honda Civic Dashboard Light Guide

You're cruising down the roads of Abington, Willow Grove, or Glenside, and you've just finished up another errand. However, when you look down to check where the next turn is to get home, you notice that an unfamiliar light has illuminated your dashboard. Understanding dashboard lights as they appear is important to remain safe on the road and keep your vehicle running optimally.
That's why the automotive experts at Marty Sussman Honda put together this Honda Civic dashboard light guide: to help drivers identify potential issues with their car when a light pops up.
Keep reading to learn about some of the critical indicator and warning lights in your Civic and where you can go for service.
Indicator & Warning Lights
Seat Belt Reminder Indicator
The Seat Belt Reminder Indicator will appear on your dashboard to inform you that the driver or front passenger isn't wearing their seat belt. It looks like a person wearing a seat belt and will continue to blink until both the driver and front passenger are fully strapped in.
Supplemental Restraint System Indicator
A symbol showing a passenger with an air bag on their lap will illuminate the dash when there is a malfunction with the air bag system in your Civic.
If this pops up, it's recommended to contact your local Honda dealer immediately for an inspection.
Malfunction Indicator Lamp
Also known as the Check Engine Light, this will appear when your engine's emissions control system isn't working properly.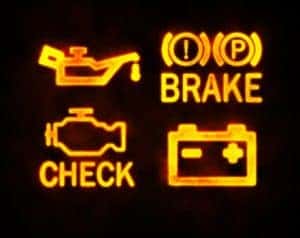 Continuing to drive with this light on can result in engine damage and a possible loss of engine power. We recommend that you contact your authorized Honda dealer promptly for service.
Low Oil Pressure Indicator
When an icon representative of an oil lamp illuminates your dashboard, it means that your engine oil pressure is low. If this light shows up, safely pull over to the side of the road and turn your engine off. Check the oil pressure to see if it's below the minimum operating level.
We recommend that you contact your authorized Honda dealer for service if the light stays on after you've added oil or if you don't have extra oil. Continuing to drive with this icon lit can result in engine damage.
Charging System Indicator
A large red battery will show up on the dashboard if your Honda Civic experiences a malfunction in the alternator or charging system.
Pull over to the side of the road and contact your authorized Honda dealer. It's recommended that you do not continue to drive your vehicle in the event that the engine stops running.
Low Tire Pressure/TPMS Alert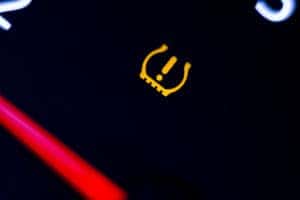 When a light appears on your dashboard with resemblance to a horseshoe symbol with an exclamation point in the center, it means that the tire pressure has dropped below the minimum level in one or more of your tires.
If this alert continues to flash, the Tire Pressure Monitoring System is experiencing a malfunction. We suggest that you pull over safely and inspect your vehicle's tires to determine if there is a leak or flat tire. Contact your authorized Honda dealer if the flashing indicator remains lit.
Anti-lock Brake System (ABS) Warning
When the "ABS" symbol turns on, the ABS isn't operating correctly or at all. Your Honda vehicle will still have regular braking unless the "BRAKE" light is also on. However, we still recommend that you contact your authorized Honda dealer promptly to have your vehicle serviced.
Brake System Warning
This "BRAKE" light will illuminate to tell you that your parking brake is still engaged or that your brake system isn't functioning properly. It can also mean that the brake fluid is running low.
If this light remains on after the parking brake is disengaged, safely stop the car and check the brake fluid. If the brake pedal feels soft or mushy, contact your authorized Honda dealer to have your Civic inspected.
Do You Still Have Questions About Your Honda Civic Dashboard Lights?
After reading through our Honda Civic dashboard light guide, the automotive professionals at Marty Sussman Honda hope that you feel more confident in your ability to diagnose and respond to dashboard lights when they appear. However, we understand that you may have additional questions.
The next time that any lights start to clutter your dashboard around Abington, Willow Grove, and Glenside, we welcome you to visit our dealership with any questions or to schedule a service appointment.