Honda Civic vs Mazda3

Here at Marty Sussman Honda, we're dedicated to providing Abington, Willow Grove, and Glenside drivers with all the information they need when they're searching for their next motor vehicle. If you'd like to find out whether the Honda Civic or the Mazda3 is the car that will fit in with your particular sensibilities, the following comparison will help you do just that. Read through it to find out which one ends up on top in terms of convenience, comfort, and entertainment.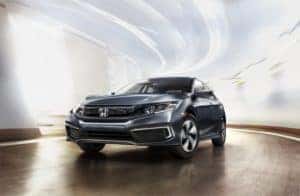 Shop the new Honda Civic online here!
Honda Civic vs Mazda3: A Quick Look at Convenience
The Hill Start Assist is one aspect of the Honda Civic that really makes a difference. It's a standard feature that comes in handy whenever you've been parked on the side of a hill. It helps you get started again without rolling backwards by holding the brakes down for you while you're moving your foot over to the gas pedal. The Mazda3 is not available with this feature.
Read the full 2019 Honda Civic review here!
Interior Dimensions
While both are compact cars, the space you'll find in the Civic provides everyone you've got on board with a roomy ride all the way. For example, its front-row headroom and legroom measurements come to 39.3 inches and 42.3 inches, respectively. The second-row seats are just as accommodating. Your passengers back there can expect to find 55 inches of shoulder room and 37.4 inches of legroom.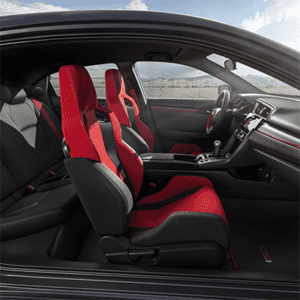 Unfortunately, the Mazda3 does not deliver such spaciousness inside its cabin. Up front, the headroom only gives you 38.6 inches, and the legroom also falls short at 42.2 inches. In the back, there are only 54.4 inches of shoulder room and 35.8 inches of legroom. The Honda Civic is clearly the better choice here when looking for a cabin that allows its occupants to stretch out and get comfortable.
Mazda3 vs Civic: Entertainment Possibilities
When it comes to keeping your passengers entertained, you can bet that the Honda Civic has you covered in this category as well. It features three possible sound systems. First, there's the standard 160-Watt Audio System that makes use of four speakers.
Not only does the available 180-Watt Audio System take things up a notch in terms of power, it also gives you a boost with a total of eight speakers. The also available 450-Watt Premium Audio system allows you to fill the cabin with your favorite music or talk program via 10 full-bodied speakers.
There are only two possible sound systems in the Mazda3. There's the standard 6-speaker audio system as well as the available 9-speaker system. Neither of these gives you the speaker count that you'll find in the Civic.
Honda Civic vs Mazda3: It's Decision Time
While both cars have a lot in store for any driver, this comparison makes it clear that the Civic goes the extra mile. Abington, Willow Grove, and Glenside drivers interested in getting a feel for these and other Honda Civic features and capabilities can do so by contacting Marty Sussman Honda to schedule a test drive.
Schedule your test drive today!