Honda Civic vs Toyota Corolla

If you're on the hunt for a car that's up for any challenges your regular Abington, Willow Grove, or Glenside commutes have to offer, the Honda Civic and the Toyota Corolla are definitely worth checking out.
This comparison between the two has been prepared by our team here at Marty Sussman Honda. Read on to get closer to deciding which one is right for you.
Shop the 2019 Honda Civic here!
Honda Civic vs Toyota Corolla: Interior Measurements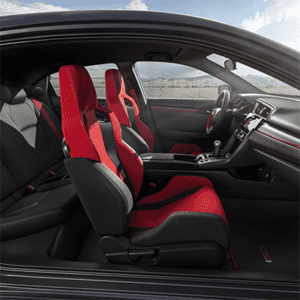 We'll give you a clear picture of what these impressive automobiles have in store for you and your passengers by allowing you to examine their front and back measurements for headroom, shoulder room, and hip room.
The Civic makes it possible for you and your front passenger to make use of 39.3 inches of headroom, 57 inches of shoulder room, and 53.7 inches of hip room. Whether you're out on a double date or carpooling to work, the folks in the second row will find there's plenty of space for them as well. They can expect 37.1 inches of headroom, 55 inches of shoulder room, and 47.3 inches of hip room.
The Toyota Corolla isn't quite as accommodating. Up front, the headroom is 38.3 inches, its shoulder room is 54.5 inches, and its hip room only comes to 53 inches. In the back, there's 37.1 inches of headroom, 54.8 inches of shoulder room, and 43.9 inches of hip room. While the headroom for the Corolla model's second row is the same as that of the Civic, the rest of the measurements simply don't compare.
Read the full 2019 Honda Civic Review here!
Spotlight on Performance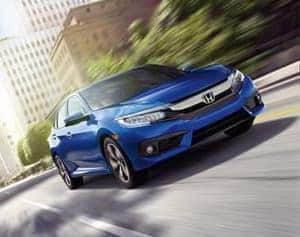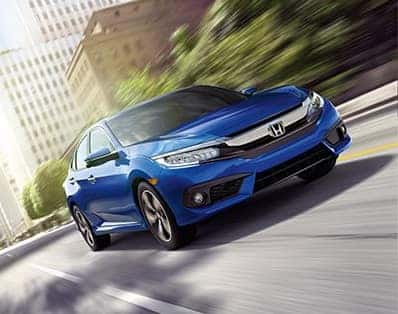 The Civic and the Corolla each have two possible engines. That's where the similarities underneath their respective hoods stop. The standard offering in the Honda Civic is a 4-cylinder engine that supplies you with a satisfying 158 horsepower along with 138 lb-ft of torque. Its available 4-cylinder engine can get up to 174 horsepower with 162 lb-ft of torque.
The standard Toyota Corolla engine can only deliver 132 horsepower with 128 lb-ft of torque, while the available engine exhibits a maximum of 140 horsepower and 126 lb-ft of torque.
Convenience Features for the Honda Civic vs the Toyota Corolla
While both cars come standard with rearview cameras, the one in the Civic provides you with multiple angles for even more awareness when you find yourself having to back out of a parking spot. One convenient aspect of the Civic that's entirely absent in the Corolla is its available Automatic-Dimming Rearview Mirror. This handy tool effectively prevents you from being distracted whenever bright headlights suddenly show up from behind.
Honda Civic vs Toyota Corolla: The Verdict
With its superior capabilities within the areas of comfort, performance, and convenience, the Civic proves itself to be the better choice over the Corolla.
If you're ready to try the Honda Civic for yourself out on those Abington, Willow Grove, and Glenside roadways, simply contact Marty Sussman Honda to set up a good time for a test drive.
Schedule your test drive online!