Oil Change near Abington PA

Are you due for an oil change near Abington, PA? Stop by the service center at Sussman Honda! We've got a state-of-the-art facility and we'll gladly get you in for this simple, routine service.
Check out some of our oil change FAQs below and then give us a call!
Schedule your oil change online here!
When Should I Schedule an Oil Change near Abington?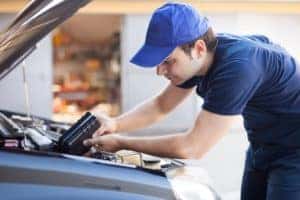 As automotive service experts, we highly recommend scheduling an oil change near Abington every 7,500 miles. For the average driver, this works out to roughly twice per year. Keep in mind, however, that if you do a lot of heavy towing, you may need to have your oil changed more frequently.
While it's always a good idea to pay attention to your mileage, you can also keep an eye on your driver dashboard. When you have 15% oil life, the Honda Maintenance Minder will display a light, along with one of these codes:
A: Replace the engine oil
B: Replace the engine oil, oil filter, and inspect brakes
If you see this message pop up, schedule service with a certified technician as soon as possible.
What Are Signs I Need an Oil Change in the Abington Area?

Watching your mileage closely and scheduling regular service is the best way to keep your oil clean and well-equipped to do its job. However, your car will also provide you with several cues if it's time for a change:
Dark or dirty oil
An oil smell inside the cabin
A grinding sound in the engine
You may also notice certain performance issues like sluggish acceleration or decreased fuel economy.
Keep in mind that, if you see any of these signs, you're likely overdue for service, so make an appointment with your dealership's service center as soon as possible to ensure that everything works as it should.
Why Do I Need an Oil Change?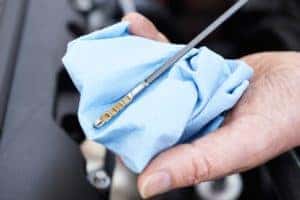 The short answer is that oil gets dirty over time and needs to be replaced to do its job properly and keep your car in great shape.
Engine oil is very important to your car's overall performance, health, and longevity. It moves around your engine and lubricates the rapidly moving parts to prevent friction damage while also dissipating heat, regulating temperature, and preventing overheating.
When your oil is dirty, it's less effective at doing its job, which can result in costly engine damage, performance decreases, or increased fuel economy costs.
The good news is that oil changes are simple and easy services to schedule, so do so at regular intervals.
How Long Does an Oil Change Take?
For a well-maintained car, oil changes tend to take approximately 30 minutes. Of course, safety is our top priority at our Abington area dealership, so we'll also give your car a thorough lookover to ensure that all components are working as they should.
If we detect an issue that needs attention, we'll let you know. In that case, the service may take longer, so that we can provide you with a thorough fix.
Schedule Your Oil Change near Abington PA
Is it time for an oil change near Abington, PA? Contact Sussman Honda to schedule service!
Contact us to make your oil change appointment today!