Oil Change near Me

The oil in your vehicle has an important job. It keeps the components in the engine lubricated so they don't damage each other. It also helps things remain cool inside the engine so it doesn't overheat.
Having your vehicle's oil changed keeps your engine performing at its best and helps preserve its various parts so you can enjoy smooth driving for many miles to come. Drivers in Abington, Willow Grove, and Glenside know they can come by Marty Sussman Honda at their convenience to have their oil changed and their vehicle filled with fresh, high-quality, and long-lasting oil!
Getting Your Oil Changed near Abington, PA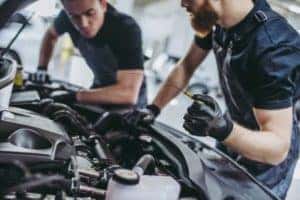 Our trained technicians have years of experience changing the oil of various makes and models. When it's time to have your engine oil replaced, they'll be able to quickly perform this service so you can get back to driving while also making sure your engine is performing at its best.
They'll add the appropriate oil your specific vehicle takes and can also inspect the entire system to make sure there are no leaks or other issues. They can even perform any other routine maintenance your vehicle may need done at that time to have it conveniently taken care of with one stop.
You can either schedule a time to have your oil changed or just swing by when you have some free time in your day and let our technicians take care of all of your regularly scheduled maintenance needs. With our Express Service, you'll be in and out in no time!
When Should I Get an Oil Change?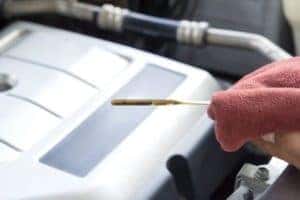 Although it's wise to schedule an oil change about every six months or 5,000 miles, there are various signs that can indicate you may need to stop by sooner rather than later. Unusual sounds coming from the engine can be an indication that its parts aren't getting the lubrication they need. An oil change can usually resolve this issue.
You'll also want to make sure you're regularly checking your engine oil. This will keep you aware of both the level and condition of the oil. If there isn't enough oil, you'll want to make sure you fill it and check again soon to see if there may be a leak. If you notice the oil is dirty and a darker color, you'll want to have it changed as soon as possible.
Even if you don't drive your vehicle much, it will still need an oil change every now and again. You may notice your vehicle needs an oil change more frequently if you tend to drive in high-traffic areas as opposed to just driving around town.
How to Check Your Oil Levels 
As we mentioned previously, it's important to take a look at your engine oil regularly to check the oil level and condition. Did you know that checking your vehicle's oil level is something you can easily do at home? To effectively check the oil level, we've provided step-by-step instructions below:
Shut off the engine and make sure it has time to cool down.
Pop the hood.
Remove the dipstick (usually labeled or a bright color).
Check the oil level, then wipe excess oil onto a paper towel.
Repeat this process once more.
Additional Automotive Services near Me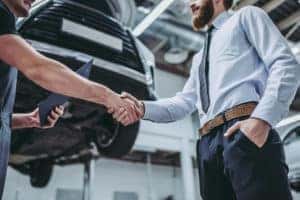 In addition to oil changes, our service center team takes pride in performing all kinds of automotive jobs, big or small. We offer tons of routine maintenance services, like tire rotations, brake pad changes, battery replacements, and many others. We can also tackle some of the more complex issues, like transmission repair and collision work. If you're not quite sure what your vehicle needs, our team is trained to diagnose problems. We'll take excellent care of your vehicle and will get you back on the road in no time at all.
In addition to our service center, we also offer an extensive inventory of OEM (original equipment manufacturer) parts. If you'd rather do the job yourself at home, just let our parts center team know which parts you need. You can call to let us know what you're looking for and then pick it up, or you can shop our online parts store and place an order right from there!
How to Schedule an Oil Change near Me
There are several ways you can schedule an oil change or any service with us. If you're looking for the fastest and easiest way to make an appointment, you can schedule it online. All you have to do is fill our Schedule Service form with some basic information about you and your vehicle, like year, make, model, your contact information, etc.
Then, you'll add a brief description of the issues your vehicle is experiencing or the service that needs to be done and when you need it to be completed. When we receive this information from you, a member of our team will be in touch about possible dates and times for your appointment. In addition to scheduling your next oil change online, you can also give us a call to set it up or stop by our service department and a member of our team can put your appointment on the schedule.
Our service department is open Monday to Thursday 7:30 a.m.-7 p.m., Friday 7:30 a.m.-6 p.m., and Saturday 8 a.m.-2 p.m.
---
Getting an Oil Change near Me 
Drivers in Abington, Willow Grove, and Glenside can stop by Marty Sussman Honda to have our certified technicians change your oil. Schedule an appointment today or stop by for our Express Service!
Contact us online to schedule your oil change.