Right Tire Pressure for My Honda

There are many ways you can help keep your car in top shape and performing at its peak when driving around Abington, Willow Grove, and Glenside. This includes regularly checking the condition of parts, making sure there is enough fluid in various systems, and scheduling to have maintenance done when recommended.
The tires especially you will want to check often. Making sure there is enough tread on them and air in them helps keep your Honda driving at its best. What is the right tire pressure for my Honda, though?
With this helpful guide our team here at Marty Sussman Honda has made for you, you will be able to keep enough air in your tires at all times!
What is the Right Tire Pressure for My Honda?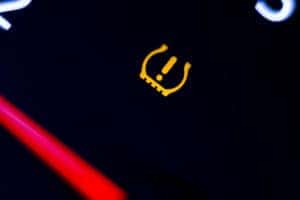 Each Honda vehicle has varying numbers for the exact tire pressure you need. Whether you drive a Pilot or Accord, you will be able to quickly find out exactly how much air pressure your tires should have in them.
When you open the driver-side door, you will see a sticker placed in the panel. On there, you will notice a number associated with the optimal tire pressure you should keep your tires at. This number is represented in psi, which means pounds per square inch. You can then go ahead and check each tire to make sure they are filled to at least that number.
How to Check Your Tire Pressure
Luckily, checking the pressure in your tires doesn't take long. All you need is a tire gauge so you can get a reading of each tire. While your car is parked in your driveway, simply remove the valve cap on each individual tire.
Then, you can place the tire gauge over each valve and see what reading you get. If it is below the recommended pressure you found labelled on the panel of your door, then it is time to get out the air compressor or head to a gas station that has a pump and fill your tires with air.
Filling Your Tires with Air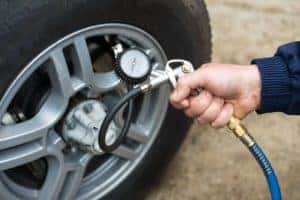 With the valve caps still off, you can go to each tire that had low pressure and begin to fill them up with air. Just place the air hose on the valve and let the air fill into the tire. You will want to stop a few times and take a reading so you can control exactly how much you are filling up your tire.
This will help prevent you from overinflating the tire too much. Once you have it to the specific psi your tires should be at, you can put back on the valve cap and go around to each tire and do the same thing.
It is also important to notice if any tires begin to lose air again quickly. You may see a tire pressure warning light come back on the dashboard, or you can check the pressure again soon after filling them. This way, you can see if there are any leaks that you will need to have fixed.
Here for All of Your Tire Maintenance Needs
Beyond making sure there is enough air in your tires, keeping your tires from wearing too fast or unevenly also helps them last long and perform well out on the roads of Abington, Willow Grove, and Glenside.
Here at Marty Sussman Honda, we can perform tire rotations, replacements, and even fix any leaking or alignment issues. Whatever tire services you need, you can schedule an appointment with our service center by giving us a call or booking a time online.